Utah's
#1

 Eco-Friendly Pest Control

Consider It Done is the most trusted and comprehensive pest control service provider in the state!
Our Promise:  Do the job right, the first time
We are a locally owned and operated company. Our success is not based on just eliminating pests, but by the way we provide said service. Bottom line: We want you to buy from us, but we don't want you to be sold. We are a family based company with our main emphasis on family. No matter how badly you want your problem gone, our approach is based on two principles: Using environmentally sound practices, and using said practices to ensure your and your families safety.
No matter the problem big or small we do it all!!!  Whether it's birds, bees, bats or bugs call us and CONSIDER IT DONE!
Apartment complexes, warehouses, food storage facilities our trained technicians will design a comprehensive control method using the newest and best bio-pesticide products on the market today!
Call 801.613.PEST for a free inspection and analysis.
Turn to Vern and Consider It Done!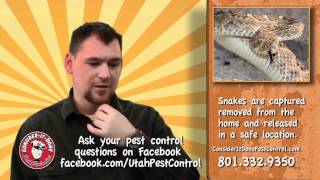 Removing rattlesnakes and other snakes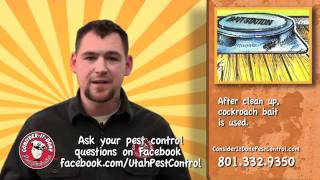 Removing cockroaches in Utah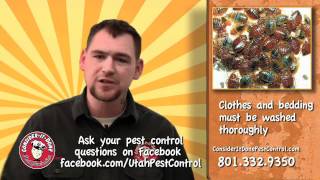 Bed Bugs in Utah!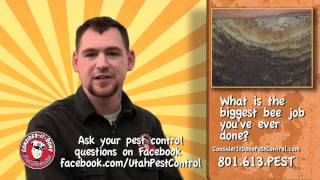 Biggest bee removal job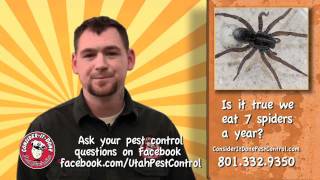 Is it true?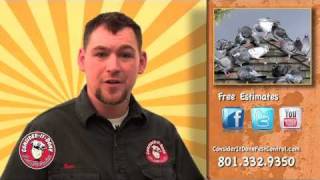 Spiders in bananas
Removing rattlesnakes and other snakes

Removing cockroaches in Utah
We'll do a swell job!  Just ask our customers!
We love our customers and are fully dedicated to keeping their trust by offering amazing services and unbeatable value!
We had Vern come out and take care of our normal extermination treatments and I was amazed. Vern came and talked with us about what he found and everything was environmentally safe!
We had a serious wasp problem in our backyard this summer which two companies told us they could do nothing for us. Consider It Done did the job that two companies could not. I will recommend them to all families and friends who need the job done!
REALLY reliable, honest, and knowledgeable. So glad I know who to ever call again. No contract needed, great value, all-organic product, that he explains as he goes. I LOVE finding great companies! Definitely top recommendations!
Make Your Pests, Our Problem!
CALL US TODAY & CONSIDER IT DONE!